www.industryemea.com
Written on Modified on
Kontron VX6940 L2/L3 high performance 40G/100G Ethernet switch completes the 6U VPX product range
Leading edge OpenVPX Gigabit switch now shipping as part of development systems.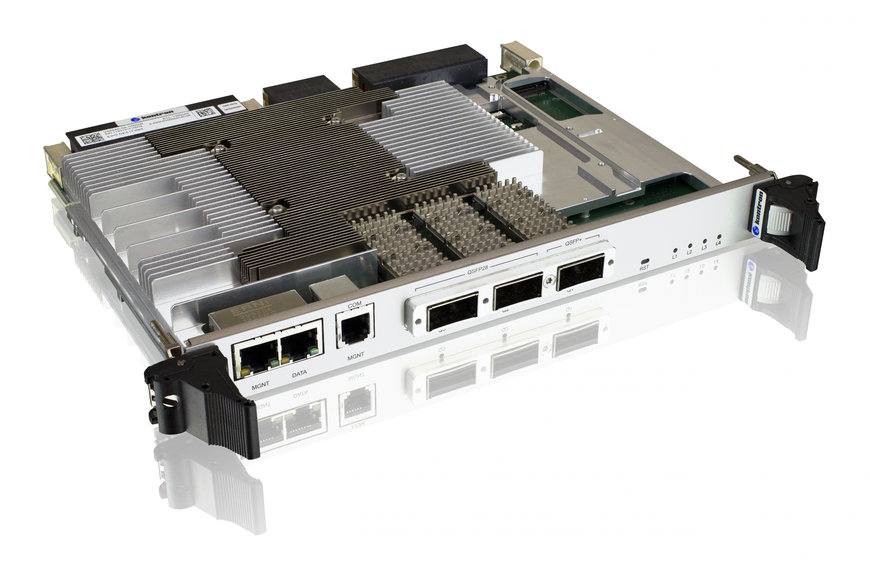 Kontron, a leading global provider of IoT/Embedded Computing and rugged hardware platforms for HPEC applications, is now shipping the VX6940, a top of the line 6U VPX switch along with its existing range of high-end ARM
®
and X86 computing blades, helping customers to develop the next decade of HPEC applications.
The VX6940 is a 6U VPX blade compliant with VITA65 / SLT6-SWH-14F16U1U15U1J-10.8.1 slot profile. Signal integrity is optimized over the backplane through the use of RT3 class VPX connectors. It offers front and rear connectivity, air-cooled and rugged versions. Rear optical connectivity is also possible via the standard VITA66.4 P6B/J6B aperture pattern option.
This non-blocking L2/L3 switch is built around the Broadcom
®
BCM56760 high-density, 72 × 10GbE port switch with 100G uplink capability offering 720 Gb of I/O bandwidth. The BCM56760 lanes are connected to a 12x 40G backplane dataplane (2 of which are 100G), 8x or 12x 10G control plane (settable as 40G), 2x front QSFP28 40G/100G, 1x front QSFP+ 40G, mappable to the backplane for conduction cooled applications.
Robust and reliable, it is tested against VITA 47 extended temperature profiles, and features IPMI, SNMP, built-in tests and maintenance ports. Development systems benefit from rear transition modules featuring 12 Samtec Firefly sockets (and 8 x 1000BaseT ports). Firefly micro connector technology allows to take the data connection 'off board' to allow easier routing in HPEC systems. Choice of multimode optical cable or copper interconnection is possible by selecting the cable part of the connection. The VX6940 itself hosts such connectivity to route front data path to the rear aperture. Another RTM version for Kontron VX6940 carries a total of 48 SFP+ cages (and 4 x 1000BaseT ports).
Coupled with Kontron ARM and X86 computing nodes, the VX6940 is the ideal solution for applications where a large number of data paths, such as multimode active and passive radars and sonars or high definition sensors, are required to be connected efficiently.
www.kontron.com