www.industryemea.com
Written on Modified on
AR-N 4105 for the Grid Connection of Decentralized (Photovoltaic) Generation Plants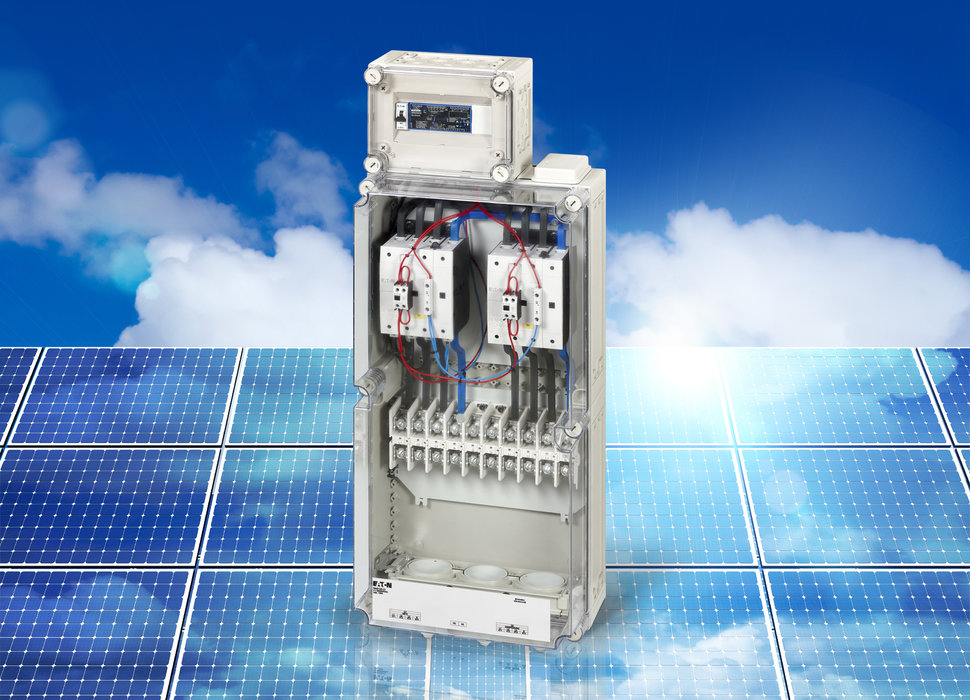 Eaton's Electrical Sector is launching a ready to connect solution for protecting the grid and distribution network of photovoltaic installations from 30 to 100 KVA.
The VDE-AR-N 4105 application guideline in force since 01.01.2012 stipulates that photovoltaic installations larger than 30kVA must be equipped with central grid and network protection at the central meter location. Due to the rapid growth in the number of decentralized power generation plants in Germany, additional measures have to be implemented in order to further ensure the stability of the grid. The VDE-AR-N 4105 application guideline includes the following measures: When the low-voltage grid is subject to impermissible voltage or frequency deviations, generator plants must be disconnected. The new regulations stipulate the use of two coupling switches connected in series that are controlled by a relay that monitors grid frequency and grid voltage. If the maximum values permitted by the regulations are exceeded, the generation plant is automatically disconnected from the grid. If the grid voltage or frequency returns to the permissible range, the installation is automatically reconnected. The type DILMP (RAC240) contactors used by Eaton are particularly efficient (sealing power 2.1) thanks to their electronic magnet drive, and can also be ordered separately.
For installation sizes between 30 and 100 kVA, Eaton has developed a compact solution in a CI enclosure that meets the requirements described in VDE-AR-N 4105. The grid and system protection developed by Eaton is installed between the power inverter and grid connection. It provides the installer with an additional solution for wall mounting that can be installed without any major effort.
The NA protection system comes in four rating classes and two frame sizes:
-Size 1: NAS63-CI-1, DILMP63(RAC240), 30kVA - 43kVA
-Size 1: NAS80-CI-1, DILMP80(RAC240), 44kVA - 55kVA
-Size 2: NAS125-CI-1-K95, DILMP125(RAC240), 56kVA - 86kVA
-Size 2 : NAS160-CI-1-K95, DILMP160(RAC240), 87kVA - 100kVA
The application guideline stipulates that contactors must no longer be used as coupling switches for generation plants over 100 kVA, and that in accordance with VDE-AR-N 4105 circuit-breakers and motor-protective circuit-breakers must be used instead. It should also be possible to combine a circuit-breaker with a switch-disconnector for the basic disconnection of an installation. The use of two contactors with the appropriate rating would technically also be a solution. However, the application guideline does not provide a clear statement concerning this. It is therefore recommended that the responsible grid operator should be consulted.
More Infos: www.eaton.de/electrical, www.eaton-solar.com
Picture No.: Eaton_NA_Schutz.jpg
Caption: Eaton Network and System Protection to VDE-AR-N 4105 for the Grid Connection of Decentralized (Photovoltaic) Generation Plants
Keyword: Network and System Protection, Photovoltaic