www.industryemea.com
Written on Modified on
GEMÜ INTRODUCES IMPROVED TWO-STAGE ACTUATOR FOR DIAPHRAGM VALVES
As part of GEMÜ's continuous product improvement strategy, the predecessor model GEMÜ 9688 has undergone a number of modifications, including a new look to enhance its visual appeal, while retaining its original functionality.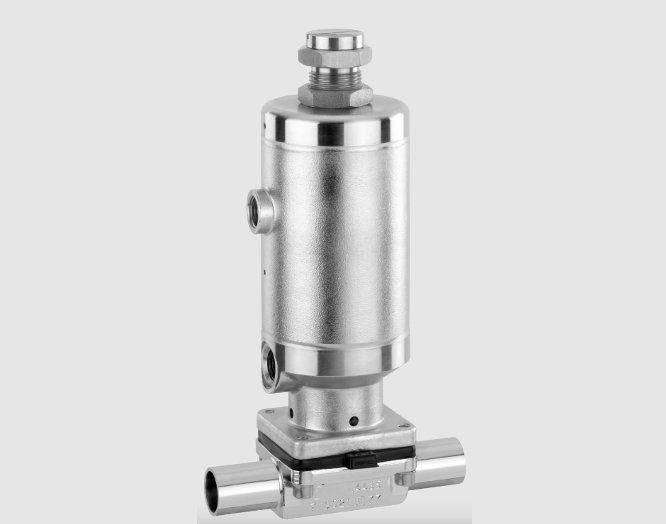 What distinguishes the revised GEMÜ 9658 two-stage actuator from its predecessor is its smaller dimensions and lower weight due to the material savings. It is also easier to clean since the actuator housing is now welded. For diaphragm valves with two-stage actuators, a continuous series of nominal size DN 10 to DN 65 (diaphragm size 10 to 50) is available.

GEMÜ's pneumatically operated two-stage actuators feature a stainless steel actuator housing, along with two pistons that operate independently of one another and can be actuated separately. They can perform either a full stroke or a variably adjustable partial stroke. This makes these two-stage actuators perfect for filling applications that require rapid open/close cycles and precise metering. An opening stroke limiter for setting the partial stroke is integrated as standard.

The redesign has significantly reduced the amount of material used, resulting in a more compact two-stage actuator. It is also more than 25% lighter than its predecessors. Welding the actuator housing instead of using screws has made it easier to clean and reduced the number of individual components. It is now also possible to use the GEMÜ 658 diaphragm valve with the code 5M PTFE/EPDM diaphragm at operating pressures of up to 10 bar.
www.gemu-group.com