www.industryemea.com
Written on Modified on
Weg: Transforming industry with digital technology
Digital technologies are accelerating innovation and efficiency at an unprecedented scale. Improved accessibility and affordability have made it simpler than ever to implement advanced digital systems to improve industrial processes.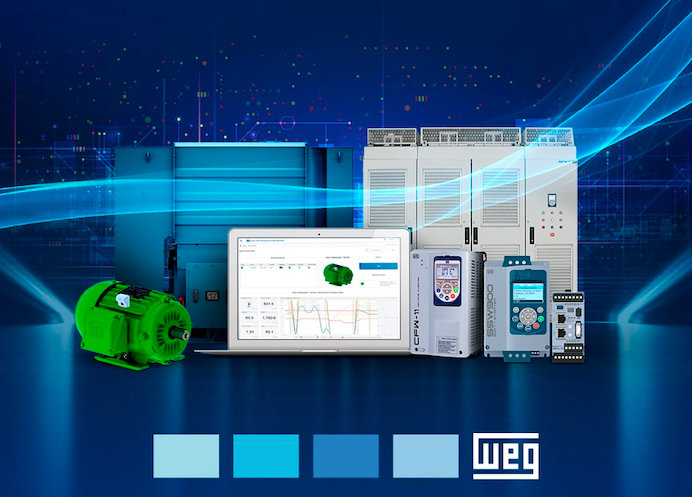 Here, Trenton Roncato Juraszek, mechanical project analyst at leading global
motor and drive manufacturer
WEG, discusses the importance of digitalisation in industry, and how it can help you to remain competitive in an evolving technological landscape.
The growing trend towards digital technology and artificial intelligence (AI) has never been more evident. Particularly in recent years, when unique global challenges accelerated digital transformation for businesses worldwide. This transformation has maintained its momentum, with Industry 4.0 strategies continuing become more common.
Adapting to the digital climate is key for any business wanting to maintain a competitive edge and to stay relevant in a changing market, and in this new information age, data-driven operations are thriving.
According to Deloitte's 2023 
Manufacturing Industry Outlook
, there has been a notable increase in investment in digital technologies worldwide. Moreover, the emergence and implementation of new and innovative technologies has accelerated too. This transformation doesn't just relate to processes at plant level; the report also noted that companies with increased digital maturity showed greater resilience and improved supply chain visibility due to superior agility and adaptability — clear advantages considering the turmoil of recent years.
In fact, the report suggested the advantages of investing in digitalisation are clear, and the trend looks set to continue, with Deloitte highlighting that 60 per cent of manufacturers now plan to invest in data analytics, and 39 per cent increasing their focus on Internet of Things (IoT) technologies.
For an industrial operation, the connection between physical assets and the internet is invaluable. Facilitating communication between machinery and web-based systems allows a more data-driven, informed approach towards manufacturing processes by optimising analysis for more intuitive, self-governed processes. As an example, a factory can have hundreds of individual physical assets, such as motors and drives, running simultaneously. Maintaining a fleet at this scale can be costly, time consuming, and even dangerous depending on operating conditions. In instances like this, traditional reactive or preventive maintenance programmes typically don't offer the frequency or accuracy that is necessary.
In practice, this can lead to undetected failures, unexpected breakdowns, and unplanned downtime. These issues come at a significant cost —
according to Forbes
, this can cost manufacturers worldwide up to $50 billion a year. Add to that the potential loss of profit when machines aren't running at their most efficient, or unnecessary increased expenditure on energy, and it is clear that new and innovative ways of maintenance are needed.
That's where IoT and AI come in. In the information age, data governs everything, and industry is no exception. Operational data from machinery and systems, when analysed effectively, can allow manufacturers to make improvements on everything from productivity to waste production, to energy consumption to equipment downtime.
Leading global manufacturer of motors and drives, WEG identified digital technology as an area for development a few years back, and took the opportunity to provide its global customer base with simple, straightforward digital solutions. In 2017, WEG developed the first of its suite of IIoT products,
WEG Motor Scan
.
WEG Motor Scan is a physical micro electromechanical system (MEMS) sensor that is easy to affix to industrial motors, drives, fans or compressors, without the need for wired or electrical connections.
The sensor gives a complete diagnostic of the motor condition, monitoring important parameters such as vibration, running hours, speed, lubrication levels and temperatures, and can even calculate any errors or misalignments. The sensors work with
WEG Motor Scan Gateway
, which collects sensor data and sends it to the cloud through WiFi, 3G/4G or Ethernet connection, giving WEG Motor Scan the ability to monitor assets remotely.
The
WEG Motion Fleet Management (MFM)
platform elevates these digital monitoring solutions to the next level. Using data acquired periodically by WEG Motor Scan, MFM generates real-time asset performance insights by analysing information on key parameters, giving maintenance staff a full visualisation of both individual assets, and the whole plant.
Being able to see accurate, thorough, and up-to-date information on machinery condition allows operators to pinpoint areas for concern or potential problems before they become more serious, so that predictive maintenance can be carried out. This reduces the need for reactive or preventive maintenance, lowering the risk of unexpected breakdowns or costly unplanned downtime.
MFM has been designed to be both technically thorough and user-friendly. With customisable dashboards and a range of reporting options depending on who's using the platform, it offers information in the most appropriate format for operators, engineers, and managers at all levels. This means that operational data can always be used in the most appropriate and efficient way for the task at hand, whether that's maintenance, workflow optimisation, or performance monitoring.
Building on the success of its IIoT technologies, WEG has since begun to incorporate advanced concepts such as AI and machine learning to further develop its digital offering.
WEG Motor
Specialist connects all elements of WEG's digital systems at every level, from individual assets to WEG Motor Scan and gateway, to the management level of MFM, to give a cohesive IIoT monitoring solution.
Rather than simply analysing performance, WEG Motor Specialist uses AI and machine learning to automate maintenance decision-making processes using analytical algorithms. These algorithms generate information for maintenance and overall operation efficiency to minimise downtime. WEG Motor Specialist also learns about motor operating patterns, highlighting indicators of unbalance, load, energy consumption and misalignment. It removes the need for engineers to manually input asset tolerances, using historical data to detect any irregularities in performance.
This means that by analysing data provided to MFM by WEG Motor Scan, WEG Motor Specialist intelligently analyses performance data to flag up any abnormal trends. Whether this is unusually elevated temperatures, or increased levels of vibration, the technology uses sophisticated algorithms to analyse operating data and when certain parameters are exceeded, it can calculate the probability that this is abnormal and generate an alert that there may be an issue, and even suggest potential causes for the issue based on historic data.
Industrial trends and the growing prevalence of Industry 4.0 highlight than digital transformation is the way forward, and it's essential to invest in digitalisation now to stay ahead of the game. IIoT, AI and machine learning are valuable tools for process optimisation and to create an intuitive, interconnected, and efficient operation. WEG's digital offering incorporates all these concepts for a smarter, simpler way to avoid downtime, improve consumption and increase productivity.
To find out more about WEG's cutting-edge digital solutions, visit the website.
www.weg.com