www.industryemea.com
Written on Modified on
ELGi Compressors Europe, a subsidiary of ELGi Equipments Limited, one of the world's leading air compressor manufacturers, announced today the forthcoming launch of the 'LD Series' range of lubricated direct drive reciprocating air compressors for the European market. With a low life cycle cost and quick return on investment, every LD Series air compressor is backed by best-in-class performance for given input power, durable parts, and a minimum number of service points.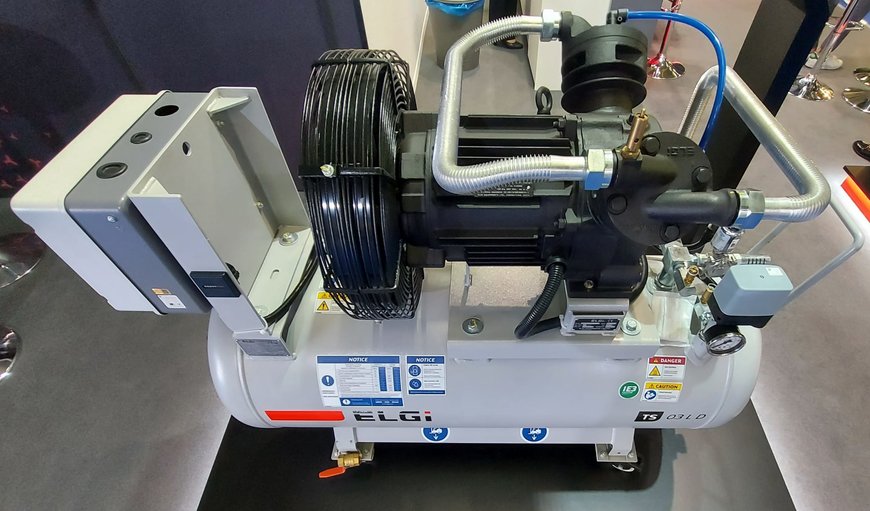 New piston air compressor technology caters to all industries looking for compact air compressors with high performance, low noise, and easy maintenance.

The ELGi LD Series, ranging from 2.2 – 11kW, is an innovation in piston air compressor technology. The LD Series air compressors come with a cast-iron direct-driven two-stage compressor mounted on an air receiver and equipped with a Star-Delta-Starter as standard. The resulting benefit is a line of compressors that provide maximum reliability and durability for small to medium-sized industrial applications where higher expectations than intermittent compressed air use can be fulfilled.

"With this new addition to the European portfolio, ELGi arguably offers one of the most comprehensive offerings of compressed air solutions for European manufacturers across all sectors," said David De Pril, Director, Product Management and Marketing, ELGi Compressors Europe. "Manufacturers requiring reliable compressed air for small to medium-sized applications are particularly sensitive to increasing electricity costs, limited industrial floor space, and fluctuating market demand. Considering all of this, we've designed the LD Series range of direct drive reciprocating air compressors. Unlike conventional belt-driven piston air compressors, the LD Series is compact, ensures high performance, low noise, and ease of maintenance."

With Sales commencing in mid-June, the direct drive piston air compressor range is an outcome of ELGi's focus on helping organisations across the world lower energy consumption, improving reliability and operating costs while achieving their productivity goals.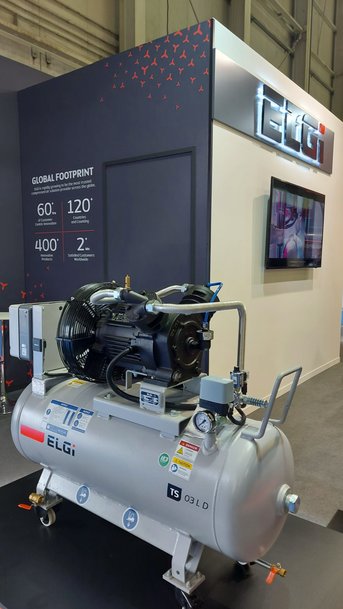 Key Product Benefits

Available in 5 power sizes 2.2, 3.8, 5.5, 7.5 and 11kW
Precise tolerance and effective transmission increase the flow of air - 7% more flow versus comparable 2-stage belt driven units
Elimination of belts reduces energy consumption and increases reliability
Efficient 6-pole low-speed IE3 motors ensure high reliability. E.g., high lifetime of piston rings
Star-Delta starters with hour meter
Compact crankcase significantly reduces oil fill needs
Large intercooler with more cooling area ensures better temperature control, thereby reducing the load on downstream equipment
Common cooling fan for the motor and top block which unlike other conventional belt-drive models, results in high energy efficiency and power saving
Cast iron tank making this a durable and resistant product for industrial spaces
2 years warranty on the entire package regardless of running hours
The 'LD Series' lubricated direct drive piston air compressors are best suited for application across the general engineering, garage, plastics, rubber, metal, and woodworking industrial segments. These industry segments specifically require high-performing piston air compressors to meet fluctuating air needs and ensure energy efficiency, ease of maintenance, and low noise.

With a portfolio of 400+ products, ELGi's compressed air solutions help customers worldwide run their businesses efficiently. To power a 400+ product portfolio, ELGi has state-of-the-art manufacturing facilities in India, Italy, and the USA. In 2019, ELGi became the first globally established industrial air compressor manufacturer to have won the coveted Deming Prize for the sustained application and leverage of TQM (Total Quality Management) across the organization. 

ELGi's products serve a wide variety of applications across industries ranging from manufacturing, food & beverage, construction, pharmaceuticals, and textiles. ELGi does business in over 120+ countries and is proud of its 2 million+ installations.  

www.elgi.com