www.industryemea.com
Written on Modified on
Kontron's COMh-ccAS delivers higher graphics and computing performance for IoT applications
New COM-HPC® computer-on-module relies on 12th Gen Intel® Core desktop processors for fast IoT applications.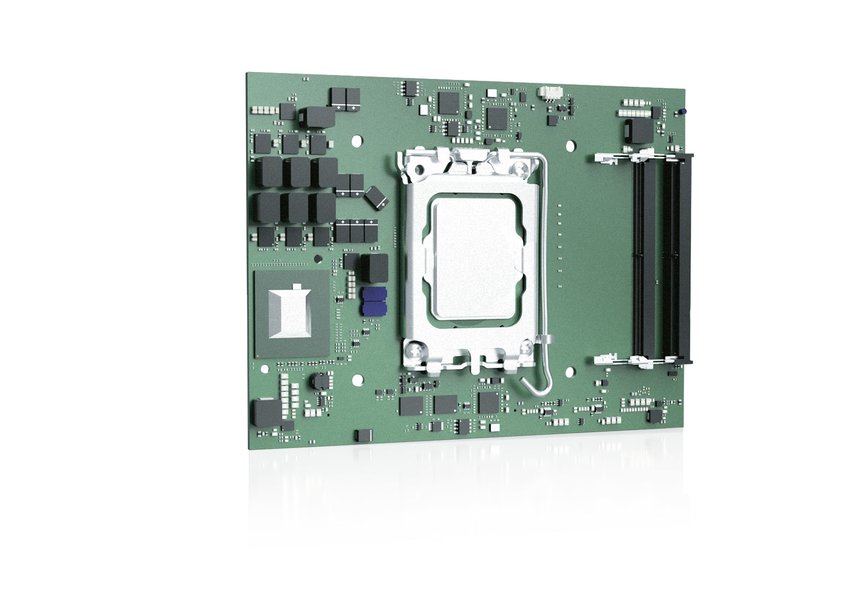 Kontron, a leading global provider of IoT/Embedded Computer Technology (ECT), now offers the COMh-ccAS, a new COM-HPC
®
client module with increased graphics and computing power for high-performance computing, based on the 12th Gen Intel
®
Core™ S processors (S-series, former codename Alder Lake S). The COM-HPC
®
client module is particularly suited for versatile applications in areas such as networking, automation, measurement, medical, kiosk/retail, ticketing/vending, gambling & amusement/entertainment, and Artificial Intelligence (AI) in general, where intensive graphics and computing power is required. The module complies with the new industry standard COM-HPC
®
, which is specifically designed for high-performance computing. An important element is the fast PCI Gen5 connection. Like its siblings, the new module in size C (120x160mm) uses the evaluation carrier for all COM-HPC
®
client modules.
Due to the socketed Intel
®
hybrid processors of the 12th generation, a particularly high multi-thread performance with 16 cores and 20 threads at up to 65 W TDP (on board) can be achieved. The flexible thermal connection allows the use of low-cost standard heatsinks as well as a passive cooling connection with a low profile. Depending on the configuration level, three different chipsets can be used; PC client or embedded use case variants are available. In addition, the new module comes with two TSN-capable 2.5 Gbit Ethernet ports; if required, it can be equipped with four DDR5 SODIMM memories for up to 128 GB. Two SPI flashes ensure BIOS redundancy.

New embedded controller enables direct Linux kernel support
A new embedded controller is now used on all new Kontron boards, replacing the previous CPLD-based variant and enabling direct Linux kernel support. In addition to cost advantages, the controller offers improved availability and optimized interfaces such as UART, GPIOs, HW monitor, fan control, I2C or watchdog. In addition, it can read and react to environmental data from CPU and chipset.
The evaluation carrier for all COM-HPC
®
client modules supports developers with a PCIe connection of all available interfaces, USB 3.X and USB4 interfaces (Thunderbolt) and a POST code display for easy commissioning.
www.kontron.com