www.industryemea.com
Written on Modified on
Designing any new electronics-based product usually represents significant engineering challenges. Creating the prototype of a circuit design often requires a quick turnaround.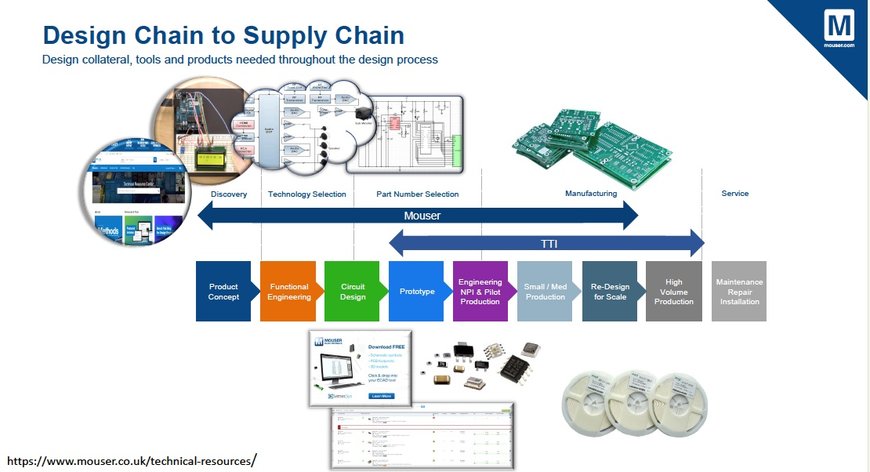 Typical design challenges include:

Space envelope
Power consumption profile
Feature set
Once the design is complete, transferring it to production adds more complexity. Component lifecycles, lead times, and the risk of counterfeit parts provide the purchasing team with their own set of problems.

The concept of design for manufacture (DFM) serves to address all potential engineering and procurement challenges throughout the design process, and most importantly, before production starts.

This article will highlight some of the steps a DFM process can include and provide useful information and tools to help you with your implementation.

Removing Production and Supply Chain Challenges
Starting on a new design project can be exciting. The marketing specification of a project provides the basic requirements from a conceptual or operating aspect, but turning the resulting product specification into reality is the responsibility of the engineering team. They begin by reviewing the product features and requirements and then start the design and development process.

From the outset, there will be many questions asked that will affect the design, for example:

What are the maximum dimensions of the product?
Is it something the user wears e.g on the wrist?
Is it mounted on a production line?
Is it exposed to adverse environmental conditions?
Is a display needed?
If battery-powered, how long does it need to last on one charge?
These and many more engineering factors need to be understood and resolved. Typically, the engineering department is divided into functional disciplines such as mechanical, electronics hardware, software development, and, increasingly, user experience.

Alongside engineering, other essential business functions such as supply chain, production, and marketing need to work closely together to bring a new product to market successfully. Also, many of the design decisions made by the engineering teams have further consequences. For example, designing a new wearable device incorporating a battery with class-leading performance might be excellent for user experience but may result in too little space for the electronics circuitry, highlighting the almost constant need for balance between the choices made.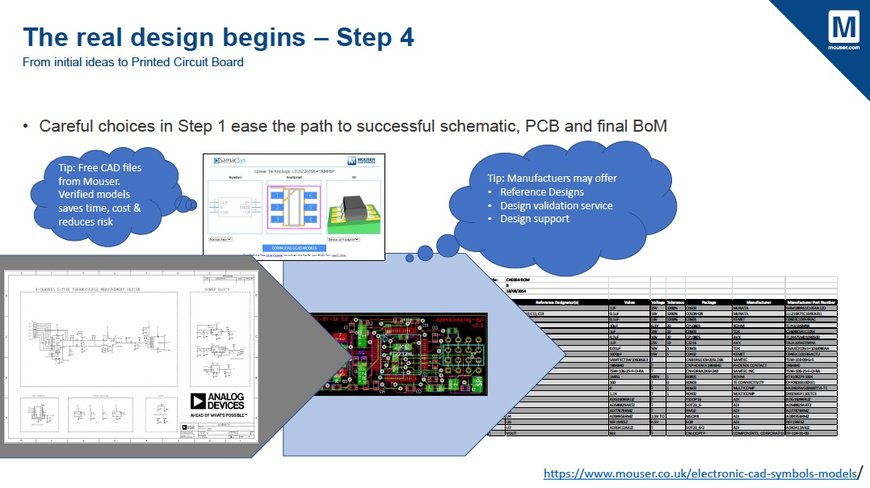 Design For Manufacture
A design for manufacture (DFM) strategy aims to deliver a product that is easy to manufacture, with any potential obstacles and unforeseen challenges identified and mitigated early in the process. Crucial to a successful DFM approach is integrating product design and process planning into a single activity.

Importantly, the scope of a DFM strategy covers every design decision made and impacts:

Material procurement
Component sourcing
Production process planning
Using a DFM strategy, a company will establish clearly documented design and manufacturing guidelines to help reduce the costs and challenges of manufacturing a new product.

To achieve success, communication between engineering, purchasing, and production teams is vital. With clear communication, potential problems can be identified and resolved before they become major issues. For example, a specific semiconductor device might be ideal from a technical standpoint but prove to be extremely difficult to source. Or a wireless component might be ultra-low profile but prove challenging for the surface mount machines to place reliably. Time spent talking between the teams is invaluable.

Practical DFM Considerations For Buyers
For supply chain professionals, when starting a DFM process, there are many things to consider and discuss with engineering and production teams, such as:

Component selection: The engineering team may have provided a list of components to source, but there can still be relevant points to raise with them, including:

How widely is the component used? Are you already procuring it for another product? If so, what has been your experience so far?
Semiconductors and ICs are typically available in different package types. Is the same device in a different package already being sourced? Could the new design be amended to use the device you already have experience purchasing?
Passive components, such as capacitors and resistors, are supplied according to tolerances. Is a high tolerance, high-cost component essential when perhaps a lower cost part may be adequate? Also, capacitors have different construction materials; tantalum and ceramic. Did an engineer specify a part simply because they had it available when working on a prototype design instead of considering the purchasing options?
Component availability: A production line stopped because of a missing component may cause expensive downtime, or worse, delay the launch of a new product, impacting revenue and potentially giving competitors an edge.

Review the bill of materials (BOM) frequently and work with sourcing and supply chain partners to review component lead times. Are delays anticipated? What might be the potential risks of supply interruption?
Always check with engineering to see if an alternative component might be suitable and potentially more accessible. Review the parameters highlighted in the above component selection section.
Check with your component suppliers about second sourcing and establish regular checks to identify future shortages, allocation orders, or other factors that might disrupt supply.
Build v. Buy consideration: This is usually a discussion for the engineering team, but the ramifications are wide and varied. For example, many regularly used circuit functions are now available as modules or system-on-chip ICs. Rather than designing a circuit from scratch, an engineer can select a ready-made module, such as a DC/DC converter.

While a discrete design approach enables engineers to achieve precisely the required parameters, it has disadvantages. Discrete designs take extra engineering and test effort and add to the BOM. A module, however, is a single BOM line item and does not incur non-recoverable engineering expenses (NRE). A module is also likely to have been space-optimised by the manufacturer, saving valuable PCB area. In the case of a DC/DC converter, the thermal management has already been profiled.

Conformance to safety and type approval standards is another benefit of adopting a module rather than a discrete design approach. For example, a DC/DC converter will be already certified against isolation and EMI/EMC standards. Likewise, a wireless module will be type -approved to international wireless specifications and protocol standards. The time required for standards certification can represent considerable NRE, so using a module can assist in speeding the development and testing phases and simplify the BOM.

Procurement Risks: Interruptions of component supply are unfortunately not the only risks to consider.

Counterfeit components can work their way into the supply chain through many routes. Reputable suppliers insist on component traceability. Check with your component suppliers that they can confirm traceability for every part they supply.
Repackaged parts can also be found and represent a significant hazard to any design. A repackaged component may have another, totally unrelated device packaged within and even be re-marked with the brand and part number you think you are buying. From the outside, there is no visible clue that all is not correct. Only proper testing and using an x-ray machine will determine if it is repackaged or not.
Conformance to standards requires that a complete documentation package, including certificates, is available for each relevant component or module. This requirement is essential, particularly for safety-related components, such as those used for medical applications.
Global issues: There are many factors to consider for this topic, ranging from trade disputes to environmental catastrophes.

Regional or country trade disputes tend to be relatively high profile, but closures due to local labour issues can be equally disruptive. Check your suppliers' news feed and website regularly for any early warning signs.
Shortages of raw materials may also pose a risk to component suppliers. For example, many electronics components rely on the availability of rare-earth minerals. Are any components affected identified on your BOM?
Sustainability is increasing a factor that influences consumer buying behaviour. What are the environmental, social, and governance (ESG) credentials of the component suppliers and manufacturers you use?
Although difficult to plan for, in the past environmental disasters such as earthquakes, floods, and fire have disrupted many electronic component supply chains. Check if any of your suppliers have experienced these issues previously.
The above factors are just some of the essential aspects of implementing a DFM strategy. Above all else, maintaining regular communication with internal and external stakeholders is crucial. The earlier you can identify potential problems, whether during the design process or in production, the more time is available to solve them.

Tools to Assist your DFM Implementation
As a leading component distributor, Mouser hosts several online tools that help simplify DFM tasks. Among them is Forte, Mouser's BOM tool, which offers a free and convenient method of managing the complete bill of materials for the product's lifecycle. Forte provides the user with a host of valuable and time-saving features that help minimise risk, including:

Flexible BOM import process from almost any format of spreadsheet
Part match confidence level to ensure correct part selection
Design Risk indication to help avoid stock and obsolescence issues
Ease of adding, amending, and deleting parts without leaving the tool
Checking price breaks for multiple quantities without committing to changing the BOM
Export, share, and print out BOM's
Further information about Forte, its key features, and quick-start guides are available here: https://eu.mouser.com/bomtool/

Mouser also provides comprehensive design information for each component, including PCB footprints, symbols, and 3D CAD models. These vital product files contain all the information needed for both the circuit and mechanical aspects of design, easing the product selection and design process. All files are free to download. If none exist for a particular component, users can request they are created, potentially saving days of engineering time. Further information can be found here: https://eu.mouser.com/electronic-cad-symbols-models/

The limited scope of this short article hasn't considered factors such as minimising handling, ease of assembly, and simplification of fabrication. We have, however, highlighted some of the critical aspects of a design for manufacture strategy that will hopefully assist with implementing DFM in your business, with the resulting commercial benefits.

www.mouser.com