www.industryemea.com
Written on Modified on
Stäubli Electrical Connectors introduces the new 4 mm Ø stackable connectors and test leads product range and thus offers a complete portfolio tailored to the customer.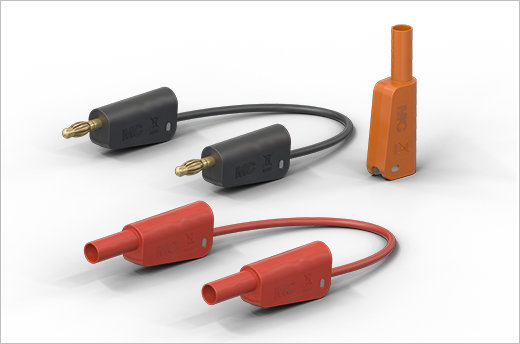 The new, wide range of test leads with stackable plugs which comes already mounted on both sides is impressive with its modern design and easy handling. Furthermore, with these new stackable connectors, the test leads can also be used for self-assembly. The safety test leads are designed in accordance with IEC/EN 61010-031 and also have UL certification for the North American market. The additional cable wear indicator completes the safety test lead offer.
The stackable connectors have a rear socket (tap socket) that enables cascading and additional connection of several test leads. This feature is required in particular in training facilities or in test beds with breakout boxes, where signal distribution and simultaneous measurement is very important. Stäubli test leads are also used in many other fields of electrical engineering.
Given the growing importance of the E-Mobility and Battery application, the color orange has been added to our safety portfolio as a standard color. Having eleven standard colors and six different standard lengths means a complete, wide-ranging portfolio tailored to the customer. Stäubli always ensures excellent and reliable contact between the measuring instrument and the points to be tested.
Due to its close cooperation with leading test equipment manufacturers, Stäubli is familiar with all applications of electrical test and measurement technology and can offer customized solutions. Stäubli has a worldwide presence and offers you a competent local contact partner with whom you can discuss your specific needs.
www.staubli.com