www.industryemea.com
Written on Modified on
A multitechnology exhibit that integrates Rexroth electric drives, controls, linear modules and conveyor systems to demonstrate several applications in the battery assembly process.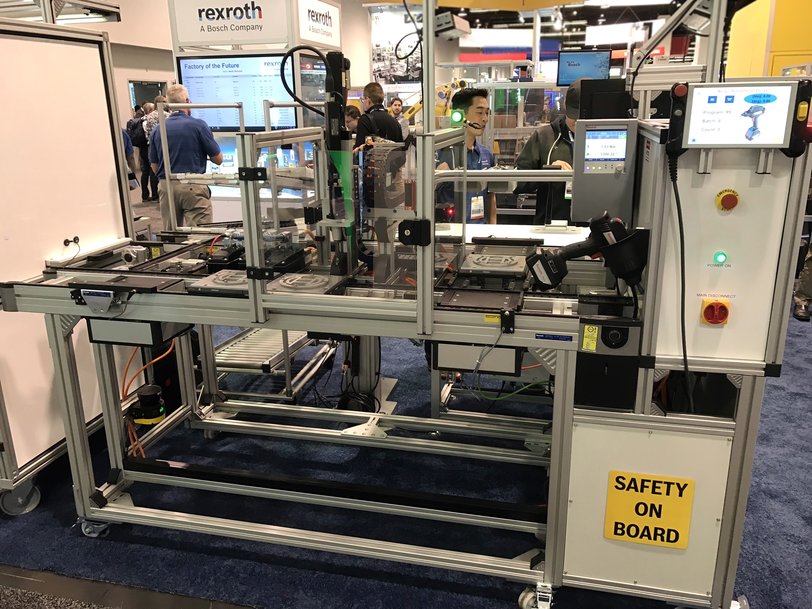 Bosch Rexroth will present its latest automation, material transport and assembly technology products and solutions for battery manufacturing and assembly in booth 2920 at The Battery Show North America, September 14-16, in Novi, MI.
Special technology demonstrations will detail a range of capabilities the company offers to help battery manufacturers improve quality and enhance assembly line throughput and flexibility. The booth exhibits will also show how Rexroth solutions help enable maximum use of i4.0 technologies to support real-time performance data capture and analytics.
The Battery Show North America and Electric and Hybrid Vehicle Technology Expo is North America's largest and most comprehensive advanced battery manufacturing trade show. Bosch Rexroth has a wide portfolio of products for battery manufacturing, developing advanced solutions in close partnership with leading production equipment OEMs and automation technology integrators serving the battery and EV industries.
The technology demonstrations in booth 2920 include:
Multi-technology Assembly Demo:
This working system incorporates technologies from across Rexroth's Assembly Technology product portfolio. It includes a TS2 plus conveyor and uniquely designed aluminum structural framing to demonstrate a high-precision pallet-based material transfer system for payloads up to 240 kilograms. Integrated with the transport system is a multi-axis Cartesian robot, created using CKK linear modules to demonstrate a high-speed pick-and-place system typically used for battery cell placement and tightening applications.
The Cartesian system is powered by a Rexroth IndraDrive Mi servo drive solution, demonstrating the space-saving advantages of cabinet-free drive technology. The whole multitechnology demonstration system is controlled by a Rexroth XM22 PLC controller with Safety PLC, Safe Torque Off and Safe Motion capabilities, incorporating an open PLC platform that communicates using multiple industry standard protocols and features energy efficient pre-engineered program building blocks that allow for easier programming in many common languages.
The exhibit also features a Rexroth automated tightening spindle to automate fastening operations typically found in battery module and pack assembly.
New Flexible Transport System (FTS) Demo:
The FTS is a magnetically propelled pallet transport system for higher transfer speeds and more precise pallet positioning than traditional roller, chain or belt conveyor systems. The system allows for independent and synchronized pallet movements, reducing cycle times and increasing throughput.
The FTS exhibit will demonstrate the fast and independent bidirectional motion of two pallets on a track, which will operate asynchronously and together. It will show high pallet positioning accuracy, repeatability and the ease of programming independent carrier movement, with the freedom to optimize battery cell, module and pack movement throughout the assembly process.
Booth visitors will have the opportunity to connect one-on-one with Rexroth automation and assembly technology experts with backgrounds in battery manufacturing system development, engineering and implementation.
Visitors will be able to discuss specific manufacturing and assembly line challenges and learn about advanced concepts, such as the concurrent engineering approaches that Bosch Rexroth is pursuing with automation integrators to help battery manufacturers rapidly expand production lines to meet surging demand for batteries and EV drives.
www.boschrexroth.com