www.industryemea.com
Written on Modified on
Mécanat Précision, a company of the Euclide Industrie Group, has just commissioned a Huron MX 12 M 5-axis milling centre. This versatile machine allows complex machining operations on parts intended for use in aerospace and energy applications. Huron differentiated itself from its competitors by proposing a special configuration of its milling centre. This move paid off, for Mécanat Précision made a sizeable investment in an industrial capital good that is expected to be in operation over the next 20 years!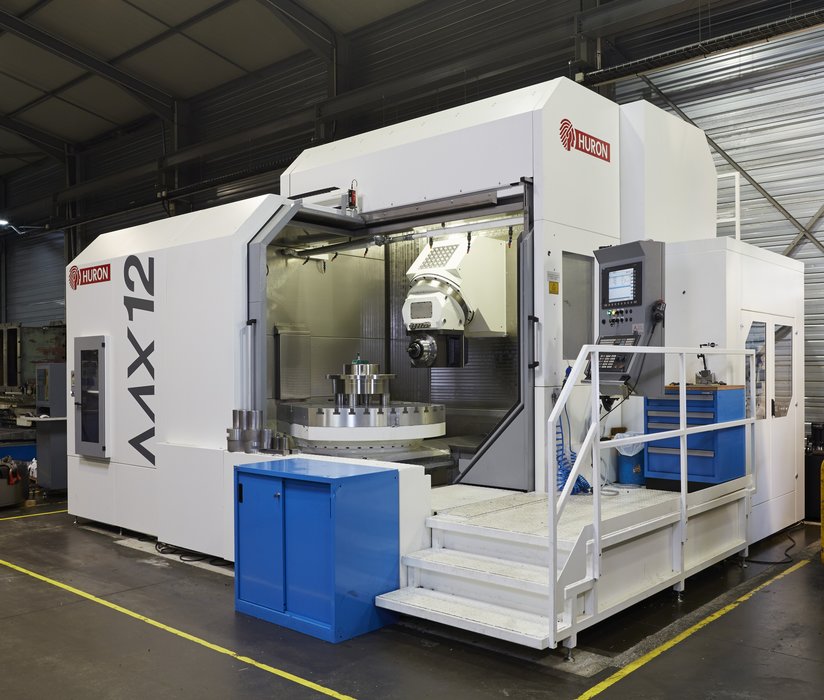 Huron's MX 12 M milling centre at work in Mécanat Précision's facilities
Prompted by a need to increase and maximise its productivity, Mécanat Précision decided in 2013 to acquire a latest-generation machining centre able to machine parts measuring up to 1500 × 1500 × 1000 mm.
Of the more than 10 manufacturers that were contacted, Huron and two others were asked by Mécanat Précision to submit a proposal in line with its specifications. Huron's MX 12 M milling centre was chosen for its technical capabilities. However, although the feasibility of the workpieces was theoretically confirmed, there remained the key issue of geometric accessibility for some complex machining operations.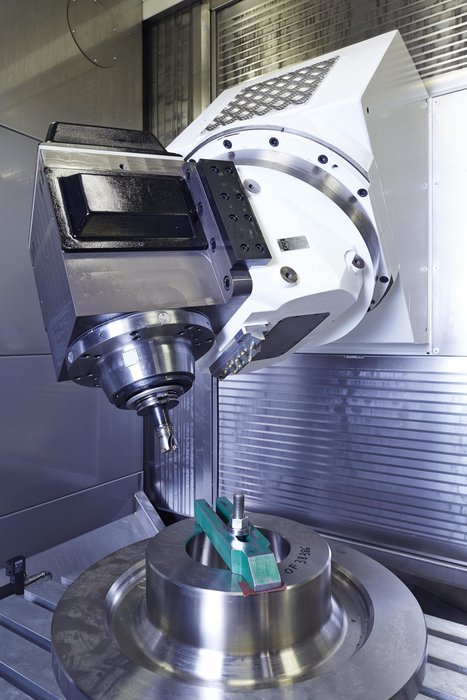 The centre machines parts of up to 2.25 m3 in volume
"Huron is a French SME on a human scale. Although we work with a distribution network, we also interact directly with our customers. We use our technical and engineering skills to tailor our products to their needs. At Huron, we attach great importance on meeting our customers' demands. This philosophy enables us to provide technical support at each stage of the decision process and fully understand which changes need to be made to our products," says sales engineer Yvano Créma.
For example, Huron's design engineers developed a special part that was then custom cast.
Huron's Applications department provided Mécanat Précision with a video of CAD simulations showing how its proposed solution could machine the most complex parts.
Flexible and modular, Huron's MX multifunction milling centres perform 5-axis and 5-face machining operations, from roughing to finishing, in a single clamping. The MX series combines power, speed and accuracy. It performs 5-axis machining of parts weighing up to 4000 kg, cuts difficult materials in a minimum amount of time and achieves contours and profiles with a very high degree of precision.
Mécanat Précision uses the MX 12 M machining centre to create parts used in aerospace applications, such as parts used on engine cowlings and structural parts, and parts of industrial gas turbines, such as guide-vane rows and even impellers and guide vanes on centrifugal compressors.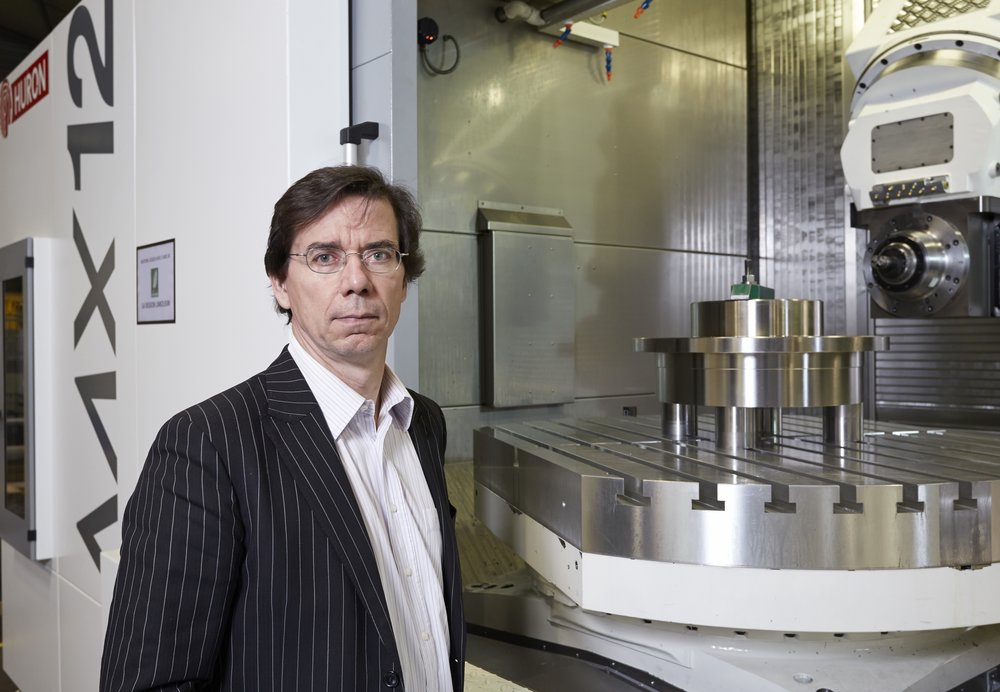 Jean-Marie Jacquet (CEO of Mécanat Précision).
"We chose Huron because its solution is closely tailored to the needs of our customers, whereas the competing solutions were standard catalogue offerings. Everything has been going well since we put the machine into operation at the start of the year. Huron provided its technical assistance in fine-tuning as well as integrating the tool magazine with the control software.
This investment has also enabled us improve the quality of our work on workpieces of these dimensions and thus enhance our brand image. As a subcontract machining company, our technical capabilities must be on a par with those of our customers for whom we are either an alternate source or the only source of production. We now create parts measuring 2.2 m3 with accuracy to the nearest hundredth. For example, our clients particularly appreciate the automatic scanning function used to create aerospace and other types of part from rough castings. The machine scans a few defined points, identifies the balancing and performs the machining. This allows us to expand our customer base and safeguard processes performed on the machine from human error. A part can easily cost anywhere between €50 and €100,000 and may even be one of a kind. We can't afford any errors! We now have a complete manufacturing line that handles everything from simulation to production of prototypes and low-volume runs," says Jean-Marie Jacquet, CEO of Mécanat Précision.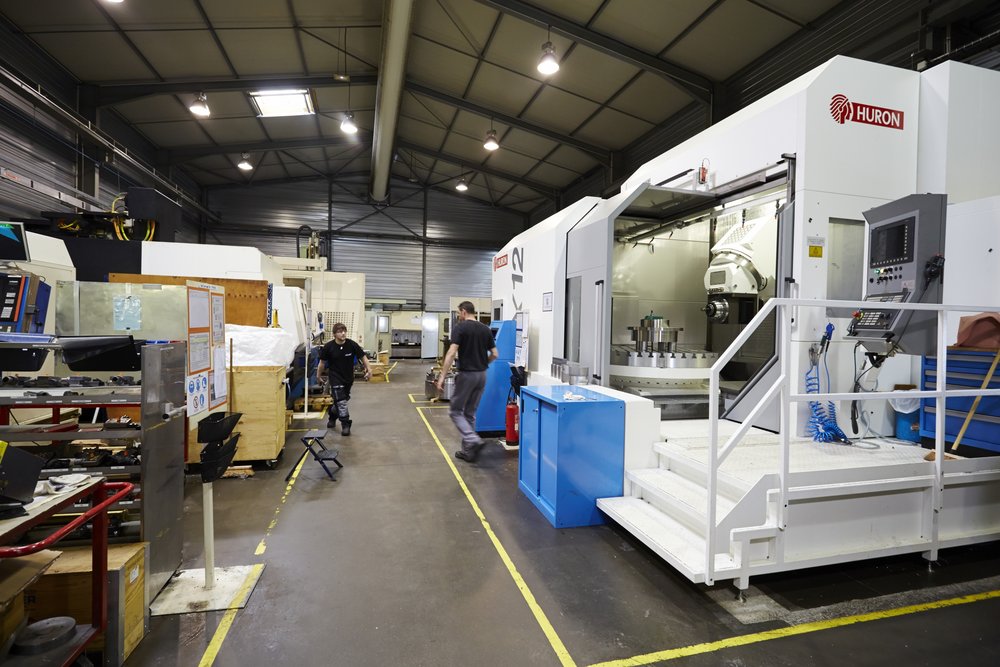 Mécanat Précision, a company of the Euclide Industrie Group
Founded in 1998, Mécanat Précision is a simplified stock company (SAS) with a registered capital of €300,000. It generates a turnover of €6.5 million and has 49 employees. Mécanat Précision is partner to 40 regular customers, 90% of which are major names, in France and abroad. The company specialises in prototypes and short-run parts made of hard metals (titanium, Inconel, stainless steel, etc.). It rolls out five parts a week and has an installed base of 20 machines in its facilities, which are operated by 48 employees. Mécanat Précision completed a €1.8 million investment project that included two other machines and buildings. The project was co-funded by France's Limousin region to assist the company's expansion.
Consisting of Mécanat Précision and Moreton, the Euclide Industrie Group (www.euclide.pro) generates a turnover of €14 million and employs a total of 100 people. This family-owned group provides services exclusively to major names in the energy (Cameron, Dresser-Rand, Alstom, GE, etc.), aerospace (Snecma, Techspace, Turbomeca, Messier-Bugatti-Dowty, etc.), mining (Metso, etc.) and machine-tool (Comau, NTN-SNR, etc.) industries. It provides full or partial machining and assembly services, involving heat and surface treatments, for medium-sized equipment and parts, hard metals, prototypes, short and medium production runs and recurrent parts. It operates an installed base of 28 machines, including parallel and vertical lathes and a 5-axis machining centre, with capacities of 100 to 2500 mm.