www.industryemea.com
Written on Modified on
Schmalz has developed a new solution for handling flat workpieces. Thanks to the extensive range of diameters and variety of material options, the vacuum suction cup SUF is suitable for universal use.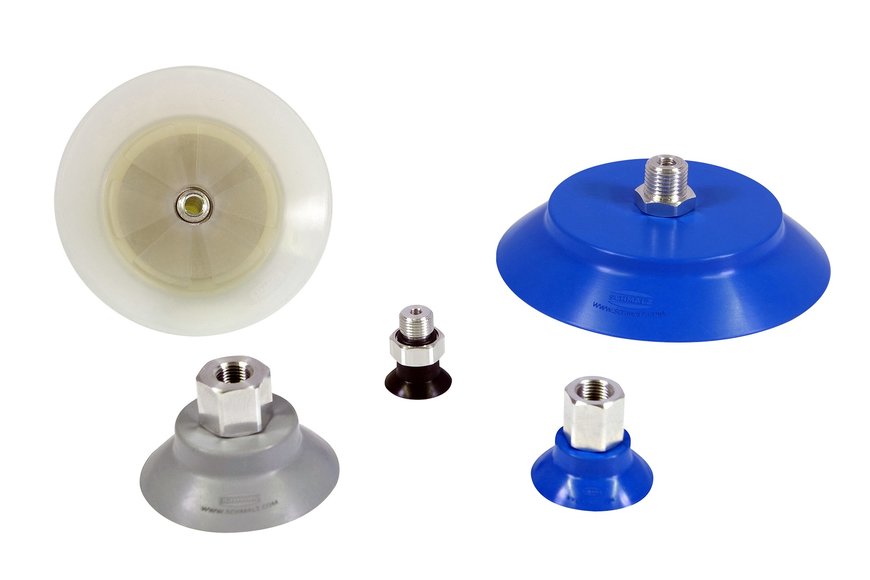 When handling sheet metal and plastic sheets – be they rough or smooth, hot or oily – robust, wear-resistant suction cups are a must. With the new SUF, Schmalz has developed a gripper solution that can be adapted perfectly to the task at hand.
The range of available materials and sizes makes various applications possible: For lifting sheet metal and plastic sheets, a suction cup made from the copolymer NBR with a large diameter such as 125, 160 or 210 mm is ideal.
When it comes to lifting, for example, hot plastic parts, without marking the surface, the vacuum expert recommends the heat-resistant high-temperature elastomer HT1. Both materials make the round suction cup in combination with the honeycombed friction structure extremely wear resistant. Together with the level sealing lip, this friction structure also prevents workpieces such as plastic films from being pulled in or deformed.
The low volume of the SUF also makes it ideal for rapid pick-and-place applications with high shear force absorption. The user benefits not only from excellent suction properties but also from the high positioning accuracy of the design. Flat workpieces with smooth or slightly rough surfaces can be handled precisely and efficiently.
www.schmalz.com