www.industryemea.com
Written on Modified on
The EQUIBLOC AIR range of pneumatic load balancers for loads of from 70 to 350 kg offers an even wider range of load hoisting and handling solutions for industry.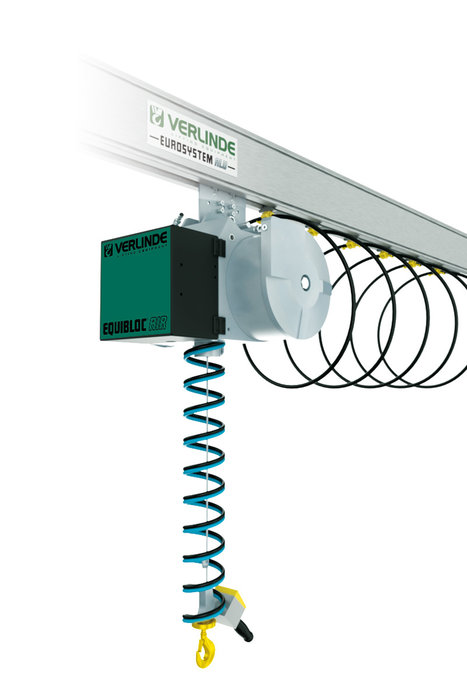 Delivered with all equipment and ready for "Plug & play" operation (control box fully equipped with distributor and regulator), EQUIBLOC AIR is quick and easy to put into service. Standard equipment includes an UP / DOWN control circuit, a 6 m cable, a spiral-wrap flexible control system duct, a valve box-type control interface and an automatic-type hook. The EQUIBLOC AIR range consists of 5 models.

EQUIBLOC AIR stands out for its high degree of safety:
-balancing by pneumatic measurement of load,
-UP / DOWN control box integrating balance mode switch,
-detection of underload,
-locking of grab (if applicable) when load is lifted.

Numerous options are available. Various types of trolleys depending on bar sections (I-section trolleys, hollow steel section trolleys or aluminium EUROSYSTEM type trolleys). Rigid suspension systems, flexible pneumatic hose or even trolleys with flexible doors are available. Also available are load gripping tools (mechanical, vacuum or magnetic gripping systems) built to comply with specification sheet, if required. For Zone Ex, Zone 1 or Zone 21 application, specific models are also available.

Due to its design, maintenance of our balancer is very easy and simple. For instance, the hoist rope is changed by simply opening the cabinet and the cylinder seal is changed without fully opening the box.

Advantages of pneumatic balancers:
- No abrupt movements during lowering and raising,
- No need for electricity and therefore a greater degree of safety.
- Flexibility of operation, reduction of operator fatigue. Reduction of musculo-skeletal disorders.
- Fast and precise manipulation.
> Effortless load travel
> Handling by a single operator.
> Ergonomically designed control box.
> The hook control is linked by 2 spiral-wrap hoses.
> Extremely quiet running provides best operating convenience.