www.industryemea.com
Written on Modified on
CIAT introduces geocooling into its building in Marseilles
At its building in Marseille, in the South of France, Ciat has installed a geothermal plant which uses a completely new prototype heat pump. It is the first on the market to be certified to Class A performance levels under the Eurovent Class A specifications in the 25 -250 kW power range. As part of the European GROUND-MED project, this HYSYS Office-type system is unusual because it operates in geocooling mode in the spring, and has achieved a remarkable five-to-one ratio of heat energy produced to electrical energy consumed.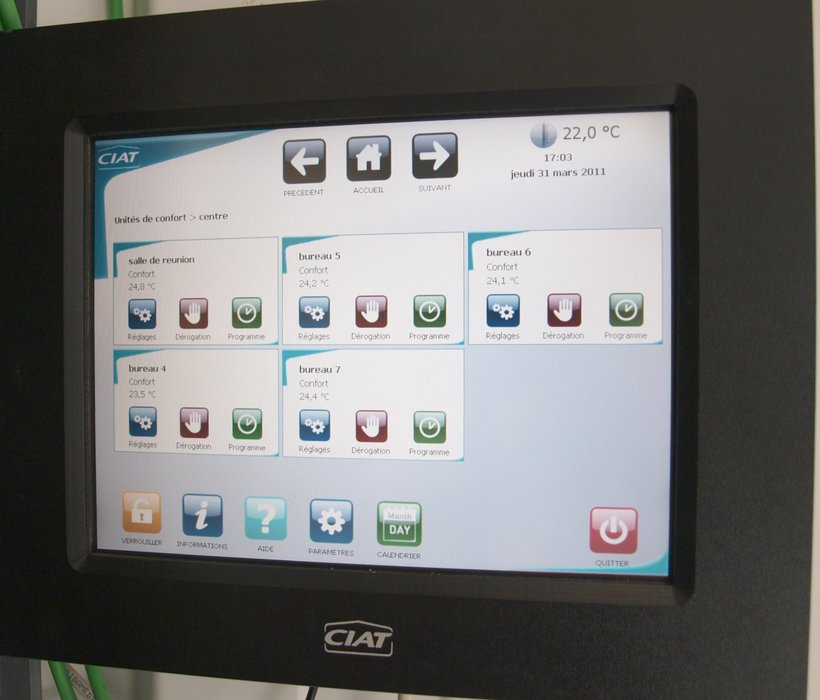 GROUND-MED is a project forming part of the European Community's 7th research and development framework programme. With a €7m budget, 60% of which is financed by the European Union, it comprises 8 pilot installations, including the CIAT site at Marseilles, France. The other sites are located in Portugal, Spain, Italy, Slovenia, Greece and Romania. The aim is an ambitious one: to develop geothermal heating and cooling systems with a "Year Round Seasonal Performance Factor" of more than 5. In other words, the thermal energy (both heating and cooling) produced must be more than 5 times greater than the electrical energy used. Around twenty partners are involved, including industrial actors, universities and research centres.
In addition to the Marseilles site, CIAT has installed its prototype heat pump in Spain, in the former head offices of a gas plant, which has been converted into a building used to promote renewable energies, and also in Portugal, in a former milling plant which has now been converted for tertiary sector activities. Both plants are rated at 60 kW.
The renovated building in Marseilles dates from 1992. It houses the CIAT Service technical centre, which covers the South of France region. With a surface area of 350 m², it is home to a dozen workers. The large plate glass windows it featured have been closed to prevent overheating in summer. New insulating backing lining has also been installed inside. The HVAC system includes six boreholes containing probes which go down to a depth of 100 m, with a purified water circuit. The Swiss company Augsburger Driller completed the drilling process in June 2010. Liquid cement was injected from below to prevent the formation of air pockets and to ensure that the cavities were completely filled. Air pockets are, of course, to be avoided at all costs because they reduce the quality of heat transfer. A heat pump based on the standard Dynaciat with a power rating of 25 kW was then specially developed. 14 low-consumption Coanda effect Coadis 2 HEE comfort units, along with a new air handling unit and centralised EasyCIATControl system, were also installed. The control system is designed to ensure perfect management of the plant's electricity consumption and also to store a complete data log.
This new system range is typically intended for small and medium-sized tertiary sector applications of up to 2500 m², and the residential market.
Once released onto the market, the new heat pump will be part of the HYSYS Office system offer range, the first water circulation based system for the tertiary market to include heating, summer comfort and air quality functions. Completely modular, it is largely made up of standard, tried and tested components from the CIAT range. There will thus be more than one hundred different versions on offer to match each specific configuration at optimal cost. Hysys Office is fully adaptable and can be upgraded; it exists in three comfort versions and offers the best environmental performance.
How can such high energy performance be achieved?
"Firstly through the use of geocooling mode in the spring," replies Eric AUZENET, Engineer at CIAT's Research & Innovation Centre. "During the winter, the heat pump cools the ground, extracting calories from it and transferring them to the building. In the spring, we then exploit this cold which has been stored in the ground and bring it back via a direct circuit. The water, which comes directly from the borehole probes, flows through the comfort units. The energy efficiency rating (EER) is therefore roughly 15! ». Water is very fluid compared with calorific fluids, which are viscous and therefore require a lot of energy to be pumped around. All the other parts of the system have also been optimised. Of course, the most important of these are the heat pump, which uses new compressors, and the new-generation heat exchangers, but we should also mention the Coadis 2 HEE comfort units with their low energy consumption.
This new Hysys system, and particularly the energy performance we have achieved, have largely been possible thanks to the CIAT Research & Innovation Centre, which has one of the biggest heat pump and thermal system simulation laboratories in the world. For example, the whole building was first modelled using Pleïade software to determine precisely what its energy needs would be in both summer and winter. The climate, along with the building's operating parameters, were programmed into the software. We were then able to establish a graph of yearly thermal needs, which showed that 12 kW of cooling and 24 kW of heating would be needed.
To improve the equipment's performance further, a Cristopia MCP (phase change material) based system will be added at the end of 2011.
Key to pictures:
SYSTEM.jpeg: Heat pump and air handling unit
BUILDING.jpeg: CIAT building in Marseilles
PAC.jpeg: Prototype of the new CIAT heat pump
CONTROL.jpeg: "EasyCIATControl" control system