www.industryemea.com
Written on Modified on
PEPPERL+FUCHS PROCESS AUTOMATION
DART is on its best way to becoming an accepted standard technology in the process industry. Dynamic Arc Recognition and Termination (DART) is a much easier approach to certify the intrinsic safety of a circuit. It provides considerable more power to drive field devices within explosion hazardous areas and allows longer cable distances. It uses intelligent detection circuits to monitor the entire electric circuit. As soon as the formation of a dangerous spark is detected, the power supply is shut off within microseconds to prevent the spark from becoming incentive. This greatly increases installation options and opens a completely new range of applications.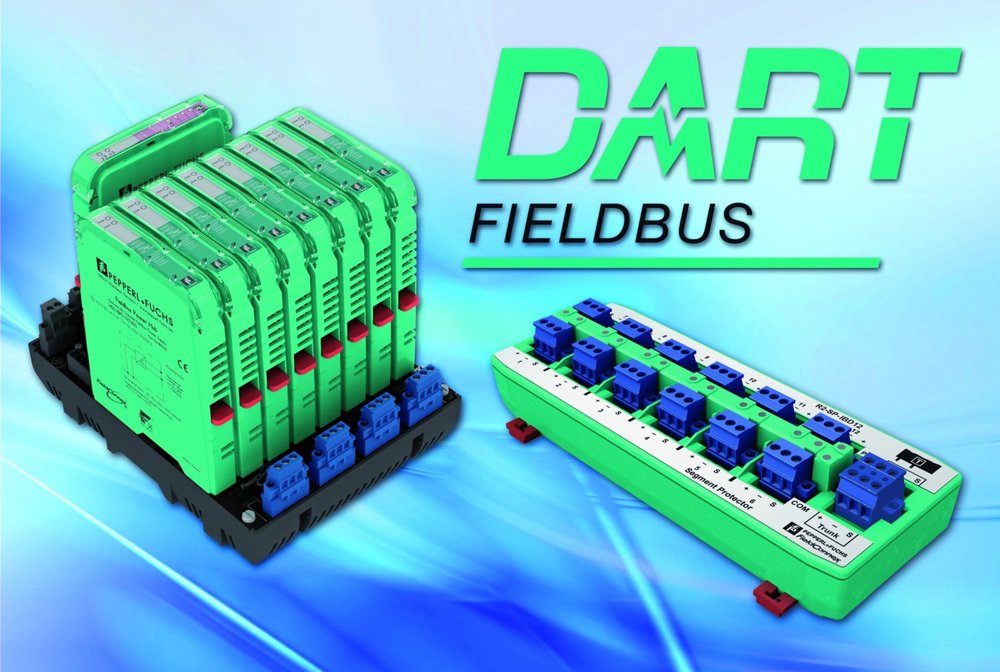 DART-Fieldbus is a solution that blends into any existing trunk-and-spur topology and matches any existing Entity class field device. Trunk and spur combines a clearly structured system layout with utmost scalability and adaptability. When it comes to explosion protection, the recent past was characterized by two concepts: FISCO and Entity. They are considered to be reliable solutions for process automation, although they have considerable shortcomings, such as limited cable distances, limited number of devices and limited usable power to operate these devices. The reason is the associated technical concept. It basically works with power limitation by keeping the current and voltage at a level which will prevent the development of a spark hot enough to cause an ignition.

Intrinsic safety right from the start
DART for the first time enables an intrinsically safe high-power trunk. It is driven by a DART power supply and is equipped with DART segment protectors, offering up to 20 outputs per segment, leading to the required field devices. The DART power supply is located in Zone 2, while trunk, segment protectors, spur lines and field devices may be located in the "danger" Zone 1. In other words: DART allows for the entire segment to be installed intrinsically safe. It allows a high number of devices and considerably longer cable distances compared to FISCO or Entity. For a DART-protected fieldbus infrastructure, the FieldConnex product range from Pepperl+Fuchs essentially provides two types of DART components. They are certified as a system: only in combination they provide the DART protection for the trunk. The DART Power Hub provides a rated power of 22.5 volts at 360 mA to the trunk. The highly compact DART Power Hub comes in redundant configuration and with an (optional) Advanced Diagnostic Module (ADM), which continuously monitors the fieldbus physical layer to detect any signs of deteriorating signal quality that might need the attention of a service technician. The individual power modules are hot swappable to allow exchanging a defective device without interfering with plant operation. The DART Segment Protector is the safety link between the high-power trunk and the field devices. It allows the connection of up to 12 spur lines with a length of up to 120 m each. These segment protectors provide short-circuit protection and intrinsically safe outputs according to Entity for easy connection of existing field instrumentation.

More power for the field device
DART allows the use of field instruments with higher power consumption than was previously possible in Zone 1: one of the first DART field instruments is called Protos 3400 Power-i. It is provided by the German process instrumentation specialist Knick and represents the very first process analysis device for operation within an electric circuit with intrinsic safety according to DART. The unit offers up to four channels to obtain measurements at different locations. It features a highly compact design with illuminated LCD display and is designed for easy on-site servicing.

The easy way of intrinsic safety
System designers do not have to switch to a completely new technical concept, but can build on their existing expertise to realize intrinsically safe solutions with dramatically increased functionality. For plant operators, DART Fieldbus is more an evolutionary than a revolutionary technology. It does not require completely new hardware, but protects their investments in their process automation infrastructure. Existing trunk-and-spur high-power trunk networks only need minor modifications, while all Entity field devices can remain in place.

After the reliability and intrinsic safety of the DART concept was verified by the Physikalisch Technische Bundesanstalt in Germany, the technology is finding its way into the respective IEC standards. Pepperl+Fuchs is a major driving force behind the development of DART. Together with 15 other manufacturers they are paving the ground work in a cooperative effort to make DART an easy to use technology adaptable to develop many solutions for the hazardous area.