www.industryemea.com
Written on Modified on
HS2 VIADUCT BUILD PASSES ONE MILE MARK ON JOURNEY TO BECOME BRITAIN'S LONGEST
The viaduct near Denham (Bucks) – one of HS2's landmark structures – will carry high speed trains at speeds of up to 200mph for over two miles across the Colne Valley between the line's London and Chiltern tunnels.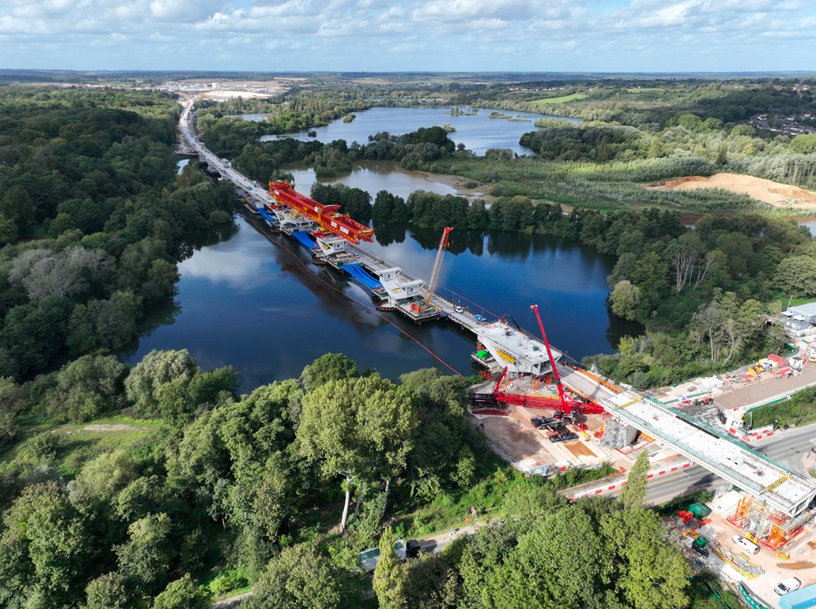 HS2 has passed the half-way point of main construction on Britain's longest railway bridge, it was announced, as a new report highlights the progress made so far on the high-speed railway.

Construction of its 56 piers to carry the deck across both land and water began in December 2021. For the past 18 months a massive launching girder has been working its way south across the valley, one pier to the next, to lower and fix into place the viaduct's deck segments.

News of the Colne Valley Viaduct passing its halfway point coincides with today's publication of HS2's Construction Review. It highlights project progress across 350 worksites between London and the West Midlands since main works construction began in Autumn 2020. Building work has started on two-thirds of the railway's 55 viaducts. Over 20 miles of single-bore tunnels - more than a third of the total - have been driven, supported by 160,000 tunnel segments.

Weighing up to 140 tonnes each, more than 500 of the Colne Valley Viaduct's 1,000 deck segments have been installed. Each one is uniquely shaped to enable the structure to gently curve as it carries the railway 2.1 miles over land, lakes and the Grand Union Canal.
www.hs2.org.uk