www.industryemea.com
Written on Modified on
Etteplan: Visual Components is always present [in our projects] just like the air we breathe'
Etteplan, a leading engineering services firm from Finland, uses Visual Components manufacturing simulation for their business growth by providing turnkey solutions to their customers.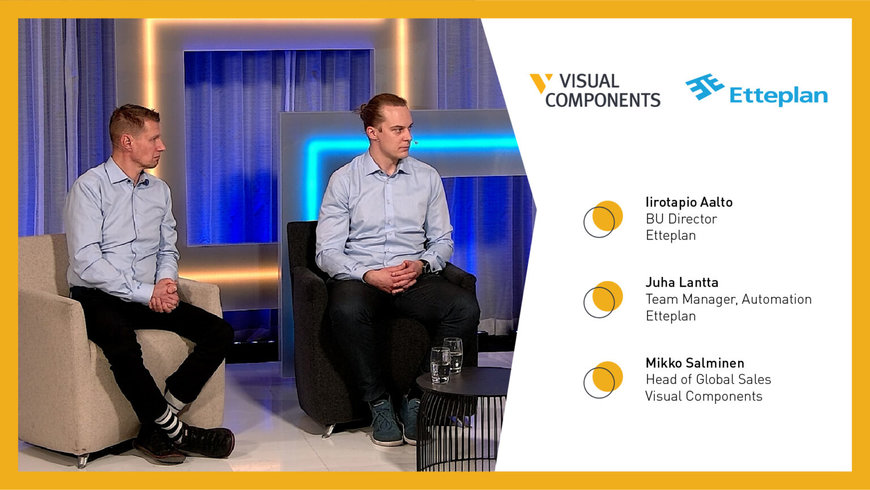 Etteplan is a leading technology service company from Finland that specializes in engineering solutions and helps industries optimize their processes through effective digitalization. Their business is divided into three key areas, engineering solutions, embedded software, and technical documentation services. This case study mainly covers the engineering services and is drawn from a conversation with the Business Unit Director, Iirotapio Aalto, and Automation Team Manager, Juha Lantta at Etteplan.
How Etteplan Integrates 3D Simulation into Their Operations

Etteplan's customer projects mainly include industrial equipment design and engineering. Their use of Visual Components software begins very early in the project process, where they use it to create and share layout concepts with their customers. This facilitates discussions that help Etteplan and their customers hone ideas and expectations and agree on an approach about the direction to take for the projects. It helps build stakeholder buy-in before moving forward with detailed engineering work.
"We see the two-way benefit of Visual Components, first is convincing the customer that they are investing into the right solution, at the same time the benefit for us is to verify early on what we are capable of delivering," 
Iirotapio Aalto, Business Unit Director.
Etteplan also uses 3D simulation for virtual commissioning. It lets them work out details of the controls strategy before equipment is built, which is when it's easier and cheaper to make changes. It saves time later in the project because work done building the model early on can be reused in subsequent phases of work.
"The main benefit is we have an open discussion through the visual model with the customer … so we are talking about the same things at the same time. It's easier to show what we are trying to solve through the [Visual Components] models," 
Juha Lantta, Team Manager, Automation.
Before and After Using Visual Components Software

Etteplan's business involves communicating ideas and concepts to customers, and explaining how the new cell or equipment will work. Before adopting 3D simulation, this work was done with static CAD models. At the time those were the accepted methods but of course, they did not provide enough insights into the systems for effective planning and decision-making.
Today Visual Components software has changed both customer expectations and the actual workflow of the business processes. Customers appreciate how 3D simulation can show them what they are buying, and also how it facilitates discussions about how equipment should work. As a result, it's now something they expect to see used in the project design phases.
Simulation has also changed how projects are planned and executed within Etteplan. Visual Components software is now embedded throughout the process, from conception in the sales stages to detail design, virtual commissioning, and implementation. This saves time, reduces the risks inherent in later project stages, and enables a faster ramp-up. Etteplan thinks in the future the software will be used to assess the risks and feasibility of upgrading systems previously developed and installed with the help of Visual Components.
"Once we show [our customers] virtual models and concepts the expectation is more and more. In every case, I would say… our customers are expecting it", 
Iirotapio Aalto, BU Director Etteplan.
Looking Towards the Future

Based on their experience to date, Etteplan is sure their use of Visual Components software will continue to grow. Customers expect it and it benefits the way projects are conceived, sold, and executed.
Etteplan notes that automation tools and standards keep evolving and improving: their request is that Visual Components continues to keep pace, updating to incorporate changes in communications protocols and plugins for PLC and robot connectivity. They're also looking forward to developing digital twins where they can import real-world data into the Visual Components model for improved process optimization. And last, they expect to see Visual Components growing as a tool for predicting and planning management of system failures such as component or machine breakdowns.
"Visual Components will be used more often in our future automation projects. It can be used for R&D projects as well. Any kind of automation [or] mechanical interaction, can be simulated using Visual Components" 
Iirotapio Aalto.


Learning From Users

Testimonials are a powerful way of learning about the benefits and capabilities of a product or service. In this case, study leaders at Etteplan have shared their experience with 3D manufacturing simulation from Visual Components and explained how it is helping them grow their business. If you'd like to learn more, contact us today.
www.visualcomponents.com